Thank you for visiting our web site. MyAluminumSupply.com is a wholly owned subsidiary of Aluminum Supply, Inc. We incorporated in Orlando, Florida in 1955. We have the largest variety of aluminum extrusions, aluminum sheet and aluminum pipe in central Florida. For over 60 years we have been aluminum suppliers and supplied aluminum cut to size with no minimum order required. WE SHIP WORLDWIDE.
WE WILL DISCOUNT FOR QUANTITY! 1-877-849-6595 or info@MyAluminumSupply.com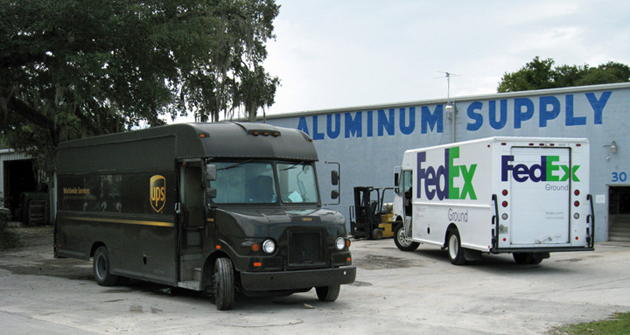 We have opened our warehouse to the internet providing the same services to anyone needing Aluminum cut to size, Aluminum Pipe cut to size. We show pricing for all of the materials we have in stock and you may order what you need and pay for the materials and select either FedEx small packages, UPS small packages or UUPS LTLFreight and your shipping charges will be calculated and added to your invoice. You may pay with an American Express, Discover, Master Card or Visa Credit Card. Once the order is placed you will receive an email conformation. We can also take your order and credit card information over the phone if you prefer.
For the materials that are listed with a price that says CALL FOR PRICE, click it, please email us or call us on our toll free number 1 (877) 849-6595 to discuss your requirements and the size and type of Aluminum Extrusion, Aluminum Sheet or Plate, 4130 Chromoly or DOM steel tubing you require. We can give you pricing and take your credit card information over the phone. For the materials that we do not have on hand we can usually fill your order in a days time and have the material cut to your specifications and shipped FedEx or UPS the very next day. We will attempt to provide you with whatever you need cut to your specifications and ship it to you via FedEx or UPS within 48 hours of receipt of your order.
If you require fabrication or special orders for multiple parts we can also provide you with quotes for these services and materials as well. We only offer Aluminum products such as Aluminum sheet, Aluminum Pipe and 4130 Chromoly tubing to our web site customers at this time. We will try to help you fill any requests or needs, if you don"t see what you need on our web site, please call us and we will do our best to provide you with what you need. WE WILL DISCOUNT FOR QUANTITY!





Our Orlando Florida warehouse hours are 8 AM - 4 PM Monday thru Friday. Walk-in's are WELCOME!
Hours for Toll Free telephone operations are between 9:00 AM and 6:00 PM Eastern Time USA